By C.J. Ciaramella - June 26, 2020 at 01:16PM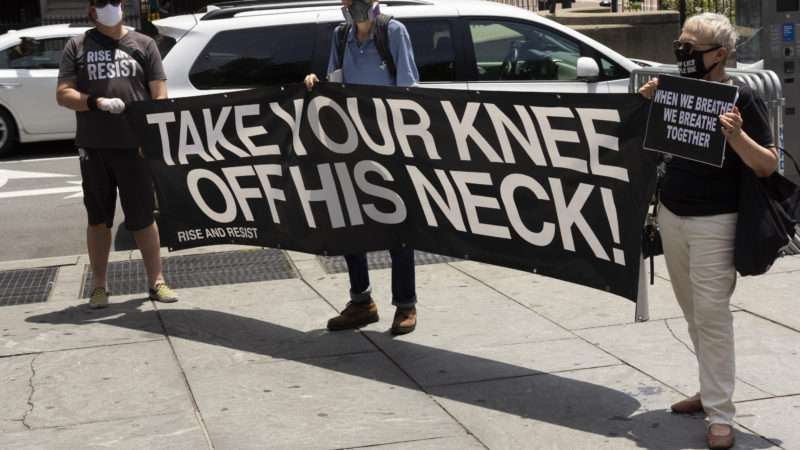 You might have noticed that there's a lot of criminal justice news right now. In fact, it can be downright overwhelming to keep track of what's going on at the local, state, and federal levels. Here's a quick roundup of some of the most significant policing reforms that passed (or failed) over the last week.
Congress
State-level Package Bills
Colorado Gov. Jared Polis

signed a sweeping police reform bill

into law. The new laws will, among other provisions, require officers to wear body cameras and record police-initiated interactions with the public; create a database of police use-of-force incidents; forbid officers from firing less-than-lethal projectiles at someone's head, pelvis, or back, and bars cops from firing indiscriminately into crowds; and strip police officers of qualified immunity in civil court if they are sued for violating people's rights or for failing to intervene when they witness another officer violating a person's rights.

Police reform legislation

collapsed

in the Minnesota legislature amid a partisan standoff between the Democrat-led House and Republican-led Senate, and lawmakers left the special session with nothing to show for their work. Republican senate majority leader Paul Gazelka told reporters the legislature is "weeks and weeks away from the possibility of doing something with criminal justice reform."

Hopes of police reform also

look dim

in Georgia, where Democrats have introduced bills that would restrict police use of tear gas, tasers, and choke holds. Georgia House Republicans, meanwhile, passed a bill that would have made police officers a protected class under a new hate crime law. That provision was

stripped

from the state senate's version of the legislation.
Use-of-Force
Surveillance
The Boston City Council

unanimously passed

an

ordinance

banning the city government from using facial recognition technology.

Santa Cruz, California,

banned

the use of predictive policing tools.
Transparency
The New York City Council

passed

the POST Act, which will require the NYPD to disclose all of the surveillance technology that it uses on the public.

Atlanta Mayor Keisha Lance Bottoms

signed an executive order

requiring the police department to identify ways to improve compliance with body camera policies and responsiveness to public records requests for body cam footage, as well as provide a way for the public to submit recordings of police use-of-force incidents for investigations. The order also calls for strengthening the Atlanta Citizen Review Board.
School Policing
As Reason reported yesterday, school districts around the country are considering ending their contracts with local police departments.
Police Unions
A labor coalition in Seattle, Washington,

voted

to expel the city's police union.
from
Reason Magazine Articles
via
IFTTT